Truck Stops in the UK | Best UK Truck Stops
Finding Truck Stops along your Travel Route made easy with Truck Stops Finder
Looking for a truck stops on your route? Check out our Truck Stops Finder! Truckslife is the best platform to locate truck stops across all areas in the UK. Our Truck Stops Finder gives you the list and all-important details of Truck Stops across the UK. Your Location is captured automatically so all you need to do Search and we'll show you a list of truck stops near to you!
So, wait no more and make the most out of our Truck Stops Finder today!
Truck Stops Finder, designed by Truckslife has accurate information and shows all facilities for hundreds of Truck Stops in the UK. The information displayed for each Truck Stop is extensive. It includes the Address, Phone Number, Parking Costs, Number of Places and Opening times, Café opening times, Fuel Cards all Facilities available. You can easily locate place to park, family run motorway service stations, floodlit parking area, and also do your route planning using our Map to select to the best directions. You can be assured our Truck Stops Finder will locate a truck stop near your location and show the distance and map with directions to get there. Whatever Truck Stop facilities you are looking for, you are sure to find it with our Truck Stops Finder. You can also find truck stops across 17 of the m4 motorway, truck stop on the a5, junction 10 of the m74, 26 miles south of glasgow, south of glasgow off junction, around 26 miles south, located in lesmahagow, toilets and showers and find service areas and truck stops or lorry park and rest stop across all the business places in the UK.
Find Truck Stops near Me and the Best HGV Driver Truckstop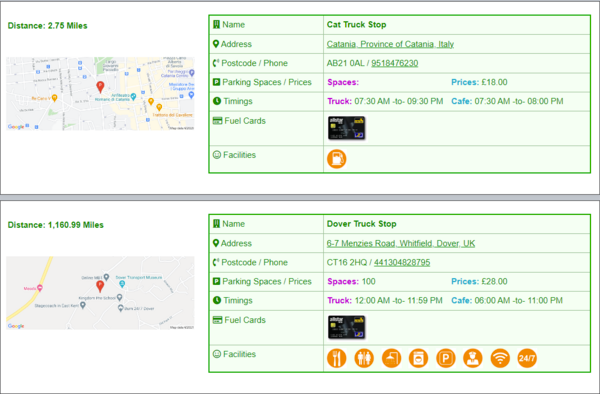 Nearest Truck Stops with Truck Stops Finder:
Truck drivers know the importance of finding a good truck stop throughout their journey. After all, it's where they'll be spending a lot of their time! This is where our Truck Stops Finder can be of great help to truck drivers. This easy-to-use facility will help truck drivers find the perfect truck stops for their needs, whether they're looking for the best facilities, the lowest prices, or the best location. You'll have a list of truck stops near you or on your route in just a few seconds. So, no more wasting time looking for truck stops that meet your needs. So, what are you waiting for? Give the Truck Stops Finder a try today, and let's help you make your life on the road a little bit easier!
How does UK Truck stops Finder Work?
The process of finding a truck stop has always been more complex! With our Truck Stops Finder, you can find truck stops near you, no matter where you are in the UK. Your current location will be populated automatically, or you can enter another area and search to show a list of Truck Stops ordered by the nearest. You can also set the Distance range so only Truck Stops within that Distance will be displayed. Also, linking to Google Maps will show the location of the Truck Stops and provide Directions. Whether you are looking for a place to eat, filling station with CCTV Cameras, a place to sleep, outdoor gyms to stay fit or just a place to take a break or overnight stay, our truck stops finder will help you find what you're looking for with best review ratings and comments from previous visitors.
Benefits of Using our Truckstop Finder:
There are several benefits of using a Truck Stops Finder at the time of your trucking journey. Here are some of the benefits of having a Truck Stops Finder:
Save Money

Truck Stops Finder will help you save money – it will help you find the best truck stops in the UK that charge reasonable prices and also help you find any discounts.

Avoid Accidents

Whenever truck drivers feel like taking a break for a short nap, they can search for the nearest truck stop using our Truck Stops Finder rather than traveling along the road restlessly, thus avoiding fatal accidents.

Find Facilities

With Truck Stops Finder, all Truck Stop Facilities are identified and displayed.

Find Fuel Cards

Truck Stops Finder shows all Fuel Cards that each Truck Stop will take.

Plan Truck Stop Route

With all Truck Stops listed on your route and accurate mapping, Truck Stop Finder can help you find the best route to your nearest truck stop destination and can also help you avoid traffic congestion. This can help you save fuel and time.

So, whether you're looking for the closest truck stop to your current location or you're looking for a specific amenity, the Truck Stop Finder developed by Truckslife is the tool you need to make your search quick and easy.
Give our Truck Stops Finder a try today and see how easy it is to find the perfect truck stop for your needs.
Frequently Asked Questions
What is Truck Stops Finder?
Truck Stops Finder is a facility under Truckslife web-based system or APP that helps drivers find truck stops and other services along their route. Our Truck Stop Finder gives you a list of truck stops across the UK.
What information does Truck Stop Checker provide?
Truck Stops Finder provides the location, hours of operation, and contact information for truck stops and other services along a truck driver's route. It also gives information about each truck stop's pricing and other available facilities.
Can I Find Truckstop News Across Route 74 and HGV Driver stops between route 74 – lesmahagow m74?
Yes, using our trukstop finder, you can find HGV Driver stops between route 74 – lesmahagow m74.
How do I use Truck Stops Finder to locate tebay services?
Using our truck stops finder is very easy. The Truckers Location is automatically loaded, so all that is needed is to select Search. A list of truck stops with all key information and Maps will be displayed for the user to select to get directions or phone to reserve a parking space or route. All Truck Stop facilities and location information will be displayed, including open and close timings, costs and spaces, fuel cards, and more.
Why is Truck Stops Finder important for truck drivers?
Truck stops Finder is important for truck drivers because it helps them find truck stops and other services along their route. This is the perfect Finder that helps truck drivers in choosing a truck stop near them that best matches their requirements.